Job Search Help Process for IT Contract and Interim Consultant job seekers
BITE's Job search services for contractors are designed to help any adult with 2-3 years + good commercial experience and a flexible approach to work, In the IT Contract sector, or Interim consultancy field in London or the UK. They must be seeking  full time temporary IT jobs or  temporary  IT work, or Interim projects for  3-6 month contracts, that may be renewed for up to 2 years. IT Contractors or IT Temporary workers need to find work quickly and those using BITE's services typically find a contract job within 4-6 weeks. The service is for anyone currently resident in the UK, able to attend our London offices and is ideal for the unemployed, those transitioning from a permanent job and new arrivals to the UK where they have the right skills. Candidates thinking of contracting or moving to London can contact us before making a move however it is unlikely that they will be able to gain interviews until they arrive in the UK or become available.
INTERESTED WHY NOT WATCH OUR VIDEO BELOW AT THE BOTTOM OF THIS PAGE?
Job search help and support is provided free of any fees to suitable candidates  (IT Contractors and Interim consultants) that wish to contract through BITE provided they work with us. Would you benefit from a fast effective job search service?
Want to find the right IT, Telco, Banking and Finance, Accountancy and Professional Interim Consultancy contract work quickly? You can with BITE's IT Contract Job Search services.
Our IT Contract Job Search Services and Interim Contract seeking services are probably the solution you need! They are  designed to present you in the most effective manner to contract employment decision makers and therefore get the right job at the best rate as quickly as possible. The service is tailored to fit your exact circumstances and you are individually trained and advised helping you find your next contract quickly.
During te credit crunch and UK recession too few jobs have been advertised and you need to access the "hidden contract job market" seeking unadvertised contract jobs. BITE can provide you with the right expertise.
How does it all work?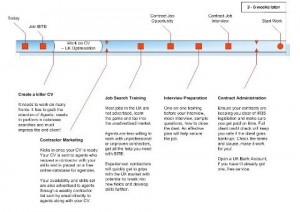 The Ten Step Contractor Coaching Programme
BITE's unique approach to the IT Contract job search process helps to establish you quickly as a contractor or Interim consultant and a part of "the cream of the industry". During the post credit crunch era our contract search process takes 3-6 weeks but in many cases candidates can secure the right jobs even faster.
Do you want to be a top contractor? You can with BITE, we'll help you establish your "personal brand" through creating a "killer" contract CV provide you with full interview training so you can secure the right contracts at market rates and most important of all you'll learn the tricks of the trade, find unadvertised jobs, learn to impress UK agents and clients alike and utilise your skills to develop your career.
Career Coaching Service for Contractors - What's included?
"The Complete Contractor Placement Service" - Your own Career Coach, Mentor, CV writing, CV Marketing and advertising, Interview Training and Networking, plus a serviced office to work from. Developed to give complete Job Search assistance to candidates who wish to take advantage of our facilities.
The Benefits include:
We provide you with a Killer CV Engineered for top performance.
We place details on the Contractors GetItStaff.co.uk list.
We place details on the Contractors Availability list.
We advise you on the UK market place and your correct rate.
Through our Internet researchers we build awareness of your availability on the Internet by expressing this each day via our network and Mailing Lists.
We send your complete CV out to our interested client base (without personal details).
Full use of the BITE Job Seeker mobile portal and phone app with access to the approved client lists, available to use remotely from anywhere in the world
We can provide you with your own email address with a link to your Hotmail account (we can turn off email when you are in work or turn on when you are not).
We interview you, check, and project your CV in the most professional manner for your personal needs.
We provide interesting jobs and try to get the client to read your CV and hopefully gain an interest in you.
We provide specialist help and advice for candidates from abroad and on relocation via our website.
Free Internet search facilities.
Free use of an office with full support including workstation, phone system and admin support.
Communication package – free Email address, message forwarding, phone message handling, U.K. postal address and forwarding facilities.
Interview & Presentation Skills training.
Internet training on how to find job opportunities on the Internet.
Free advice on IR35 – the biggest change in the UK is explained and the support to maximise your net income (improved by up to 15%).
References, for renting accommodation, opening a bank account and obtaining a mobile phone.
Tax advice on rates and rebates.
In return we need a reasonable Commitment from you!
To visit our London office and to use its facilities 2-3 times a week.
To regularly meet your mentor and take part in job search training modules
Use our Job Seeker mobile portal to log and develop all contact with agents & companies.
To liaise as far as possible every week and maximise the use of our email /Marketing and Communication service
To notify BITE of any personal job application in the past 3 months to avoid misunderstanding and duplication.
To agree to and observe our job seeker agreement terms and conditions and terms of engagement/contract of employment (where appropriate).
How does BITE fit into the market?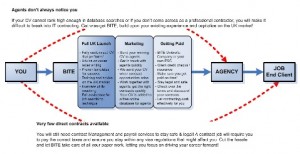 What next?
Read more about the services BITE have to offer, if you think we can help you with your career send in your CV and we'll check it over for free. If you're suitable for IT Contracting in the UK you'll be invited for an interview where you can have any questions answered
submit CV button above right>
WHY NOT WATCH OUR VIDEO BELOW?

BITE OFFER CAREER ADVICE  for IT Contractors and freelancers so that you can make the right decision for your personal circumstances and backs this up with the opportunity of qualified independent accountancy, financial and legal advice on your contract, employment, financial, pension and visa services. BITE provides PAYE supply services, all PSCs must be incorporated via a firm of qualified / chartered accountants
Find out more about BITE Consulting - Send in your CV
No Job no fee guarantee disclaimer: Under the 10 step job search program, we can't help you get a job unless you regularly visit our offices, attend training sessions and utilise the support provided to you. We work face to face with real people and you must work with us to help you. If then you don't gain a job in the agreed time having attended the whole 10 step career coaching programme and used our job search database correctly we won't charge you a penny!
The Three Day Marketing Personal Brand Plan does not carry a no job no fee guarantee.
However If you purchase one of our training modules separately, attend and are not satisfied with it we will refund your money.
BITE Consulting covers: IT Contracting London UK, IT Consulting London UK, IT Contract work London, IT contract Jobs London, Temporary IT work in London, Temporary IT Jobs in London, working with Freelance Interim Consultants for professional jobs.
BITE also offers: Contractor marketing and advertising services, CV Marketing services,  with how to write an IT Contract CV to produce a Killer contract CV with, IT CV templates and IT CV examples. Your Jobsearch in our London office provides access to the hidden contract job market, career coaching for contractors, and contractor career management services .
BITE is not a visa or employment agency.